RenaHD® Haemodialysis Concentrates
RenaHD® Haemodialysis Concentrates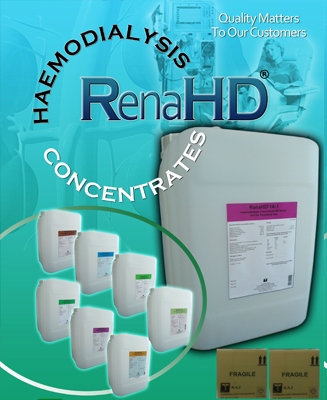 RenaHD® Haemodialysis Concentrates are manufactured under strict Good Manufacturing Practice (GMP) environments & preparation is made under enclosed system from mixing until filling process.
Our infrastructure, Quality Management System and practice had been in compliance accordance to the requirements of Good Manufacturing Practice for Medical Device and recognized by Medical Device Control Division Ministry of Health Malaysia.
The water quality of Highly Purified Water (HPW) had been validated and system is able to deliver consistent water quality which is in compliance with HPW and equivalent to Water For Injection (WFI) ensuring total product quality safety and effectiveness.
Packaging Configuration Advantages:
Product is filled under HDPE stackable canisters,palletized and wrapped with LDPE stretch film which provides advantages such as:
Neat in storage and space saving.
Easy to handle and canisters are steadily stackable up to 3 layers based on quantity needed during dialysis.
Clear LDPE stretch film is used for wrapping to facilitate identification.
RenaHD® Product Range:
HD5333101 - RenaHD®-1B Haemodialysis Concentrate (Bicarbonate) -Can of 10L
HD5333102 - RenaHD®-2A Haemodialysis Concentrate (Acid) -Can of 10L
HD5333103 - RenaHD®-3A Haemodialysis Concentrate (Acid) -Can of 10L
HD5333104 - RenaHD®-5A Haemodialysis Concentrate (Acid) -Can of 10L
HD5333105 - RenaHD®-1B-1 Haemodialysis Concentrate (Bicarbonate) -Can of 10L
HD5333106 - RenaHD®-1A-1 Haemodialysis Concentrate (Acid) -Can of 10L
HD5333107 - RenaHD®-2A-1 Haemodialysis Concentrate (Acid) -Can of 10L
HD5333108 - RenaHD®-3A-1 Haemodialysis Concentrate (Acid) -Can of 10L
HD5333109 - RenaHD®-1B Haemodialysis Concentrate (Bicarbonate) -Can of 5L
HD5333110 - RenaHD®-2A Haemodialysis Concentrate (Acid) -Can of 5L
HD5333111 - RenaHD®-3A Haemodialysis Concentrate (Acid) -Can of 5L
HD5333112 - RenaHD®-5A Haemodialysis Concentrate (Acid) -Can of 5L
HD5333113 - RenaHD®-1B-1 Haemodialysis Concentrate (Bicarbonate) -Can of 5L
HD5333114 - RenaHD®-1A-1 Haemodialysis Concentrate (Acid) -Can of 5L
HD5333115 - RenaHD®-2A-1 Haemodialysis Concentrate (Acid) -Can of 5L
HD5333116 - RenaHD®-3A-1 Haemodialysis Concentrate (Acid) -Can of 5L
HD5333117 - RenaHD®-1A-1G Haemodialysis Concentrate (Acid) -Can of 10L
HD5333118 - RenaHD®-2A-1G Haemodialysis Concentrate (Acid) -Can of 10L
HD5333119 - RenaHD®-4A Haemodialysis Concentrate (Acid) -Can of 10L
RenaHD® Haemodialysis Concentrates Mixing Ratio

Both Acid & Bicarbonate concentrates for bicarbonate dialysis are available in liquid form with two types of mixing ratio namely 1+35.83 (1+1.83+34) and 1+34(1+1.225+32.775).

In the haemodialysis machine, ratio 1+35.83 corresponds to 1 part of liquid acid concentrate mixing with 1.83 parts of bicarbonate concentrate 8.4% and 34 parts of Reverse Osmosis(RO) water for final yield of 36.83 parts of ready-to use dialysis fluid.

Meanwhile, ratio 1+34 represents 1 part of liquid acid concentrate mixing with 1.225 parts of bicarbonate concentrates 8.4% and 32.775 parts of Reverse Osmosis(RO) water in order to obtain 35 parts of ready-to-use dialysis fluid in the haemodialysis machine.

Bicarbonate concentrates may be used only in combination with an acid concentrate of appropriate formulation and in the specified mixing ratio as per listed in the following table:
RenaHD® Haemodialysis Concentrates Literature
RenaHD®-1 Haemodialysis Concentrates Literature